Al Chiroq - is an interactive platform that allows you to receive various bonuse
The Al Chiroq application provides subscribers with various prizes, bonus packages, and also helps to increase the loyalty of the operator's subscribers and reduce churn along with the function of attracting additional sources of income.
Presence of a Telegram Bot
The full functionality of the Al Chiroq mobile application is available in the telegram bot. Log in from any device in order to receive daily bonuses, as well as make purchases in Al Chiroq Market for earned coins.
Go to Telegram Bot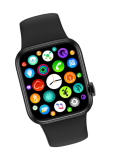 Al Chiroq Premium
With Al Chiroq Premium, you get even more bonuses, as well as a number of additional benefits, such as the choice between Internet traffic or minutes.
Internet traffic
Up to 5000 MB
Extra minutes
Up to 3000 minutes
Balance replenishment
Up to 50 000 sum
Valuable prizes
Big chance to win valuable prizes.
Download app
Multilevel bonus system for users
Our application distributes real prizes every day to the most active users. Raise your level and get a chance to win the most valuable of the prizes.
Download app
Opportunity to win many different prizes!
Perform activities in our bot or app and earn coins that can be spent on additional resources in the form of megabytes, minutes, SMS, as well as purchase goods in our marketplace
Download app
6 Сhances of getting a bonus
Go to the Al Chiroq app in the "Buy Odds" section, you can purchase additional odds to receive bonuses. They are available at great prices, buy and win prizes!
Download app